Belmont Stakes Largest & Smallest Fields
Contributed By
Dave "Daily Double" Wildermuth
Posted on
6/3/15 9:00 AM
We are now down to mere double digit hours until the 147th running of the Belmont Stakes captures the sports universe! The field continues to dwindle down as Carpe Diem and Truth or Else withdrew from the final leg of the Triple Crown known as, "The Test of the Champion." Currently, only 8 horses will run this American Grade 1 Stakes Thoroughbred horse race in Elmont, New York. Have you ever wondered how many horses raced in the largest field in Belmont history? Or have you thought about what the smallest field might have been in Belmont's past? Todays blog will answer these questions!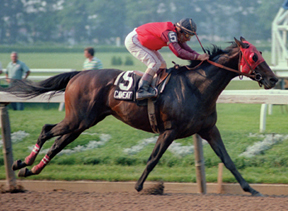 Caveat down the stretch at Belmont in 1983
The largest field ever to compete at Belmont consisted of 15 horses. The year was 1983 and it was an exciting race at Belmont. Caveat defeated Slew O' Gold by 3 lengths & change. You can watch this historic race below:

1983 Belmont Stakes (Full Race)
14 horses raced at the 2nd largest field ever to compete at Belmont. We have to go all the way back to the 19th century, 1875 to be exact, where Calvin beat Aristides. Another interesting side note is that a stablemate won the inaugural running of the Kentucky Derby that same year! Check out the entire Race Video Below:
Just Kidding - Its 1875 folks...
As for the smallest field at Belmont, there is a five way tie. The years were 1887, 1888, 1892, 1910, & 1920. In these five years, only TWO horses ran at Belmont. There was never a walkover, w.o., at Belmont. For fans new to horse racing, a walkover is the awarding of a victory to a horse because there are no other horses, or because the other horses have been disqualified or have forfeited (the winner has merely to "walk over" the finishing line). Long before Belmont's existence, 18th century champion Eclipse was so dominant, he was allowed to walkover a staggering 9 times!
As the hours tick down and race time draws near, we shall see how many thoroughbreds will compete in the 147th running of Belmont Stakes!
comments powered by Disqus