Fun Facts about Belmont Stakes
Contributed By
Dave "Daily Double" Wildermuth
Posted on
6/4/15 8:42 AM
Time continues to tick down in anticipation of American Pharoah's attempt to capture the first Triple Crown in 37 years at Belmont this Saturday! Today's Blog will focus on some fun facts about "The Test of the Champion."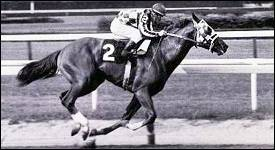 The last Triple Crown winner 37 years ago was Affirmed, who beat rival Alydar in all three of the Triple Crown races.
Secretariat set the record in 1973 when he galloped around the track at a mind boggling speed of 2:24.00. (A North American Dirt Track Record)

Secretariat's Triple Crown Win at Belmont Stakes in 73
The first Triple Crown Winner was Sir Barton who ran an impressive 2:17:40 time around the track.
In 1871, the fifth Belmont Stakes, the first post parade took place in the United States. In the Prior 4 years, horses were transported from the paddock area to the post.
Only 7 women trained horses in the history of this legendary event. Kingpost, who was trained by Dianne Carpenter, finished 2nd to rising star in 1988.
The Belmont was cancelled for 2 years in its entire history. In 1911 and 1912, the State of New York passed Anti-Gambling laws and failed to exempt horse racing.
The Belmont Stakes is the Oldest and Longest running of all three Triple Crown Events. A New York Banker by the name of "August Belmont," established the Belmont Stakes which was first run at Jerome park which is in the present day Bronx. The first race was in 1867 and at a mile and a half is still the longest of the three Triple Crown Races.
James Rowe was the first Jockey to win back to back at the Belmont in 1872 & 1873.
Six Wins for an owner is the record at Belmont stakes. This record is a two way tie between James R. Keene and Belair Stud.
Dating back to 1905, the # 1 post has manufactured the most winners with a total of 23.
Before 1921, the race was run in clockwise tradition of English racing. Since then, the race has been "Americanized," and run counter-clockwise.
In 1996, the post parade song was "The Sidewalks of New York", and it ran until 2009. The song was changed to broadcast a recording by Frank Sinatra of the "Theme from New York, New York" in an attempt to appeal to younger fans. In 2010, the song was changed to Jay-Z's "Empire State of Mind" before reverting to "Theme from New York, New York" from 2011 through the present. You can listen to both songs below to pick your favorite.

Frank Sinatra's "New York, New York"


Jay Z's "Empire State of Mind"
So this Saturday when you are with family and friends watching "The Run for the Carnations," you can impress them all with your extensive Belmont Stakes Horse Racing Knowledge. (And you don't have to let them know you learned it all from 9thrace.com)
comments powered by Disqus